Making Pizzas With Tony Gemignani, Part I and Part II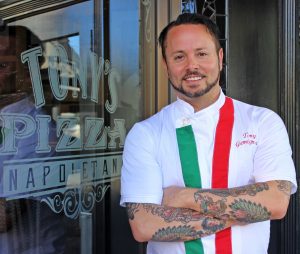 Tuesday, August 17, 2021
8:30 a.m. – 10:00 a.m.
W11 Making Pizzas with Tony Gemignani, Part I ($185)
Nobody has more expertise and experience with a vast array of pizza styles than Tony Gemignani. In Part I of his workshop he'll lay the foundation by going over starters and dough prep techniques designed to hone in on different crust types. Come ready to learn, as this will set the stage for day two when you get into the nuts and bolts of multiple styles.
Wednesday, August 18, 2021
8:30 a.m. – 10:00 a.m.
W13 Making Pizzas with Tony Gemignani, Part II ($185)
After you have the foundation from Part I, Tony will spend the second session delving into the nuances and techniques it takes to master New York, Sicilian, Grandma and Neapolitan pies. Additional registration fee.
About Tony Gemignani
Tony's Pizza Napoletana, San Francisco, Tony Gemignani's Restaurant Group & International School of Pizza
Tony Gemignani has won 12 world titles for his pizza making and acrobatic dough-spinning routines, authored or co-authored three books (including "The Pizza Bible"), appeared on several national TV networks and is an owner in 16 pizzerias. His first, Tony's Pizza Napoletana in San Francisco, opened in 2009, has been named America's best pizzeria by USA Today, the Travel Channel and Forbes. Tony also runs the International School of Pizza, where he certifies chefs from all over the world and teaches a variety of pizza-making styles, many of which simultaneously appear on the menus at his restaurants. He teaches the Making Pizzas With Tony Gemignani workshops annually at Pizza Expo.
Want to register for Tony's Workshops? Select these sessions while registering for Pizza Expo 2021.
Click here to reserve your spot! Space is limited. 
A Workshop Attendee Says:
"My own aunt refused to give me her tomato sauce recipe, but that's just fine because 12-time World Pizza Champion Tony Gemignani gave me his recipe in a workshop that was worth every penny."
Michael Bozzelli
Bozzelli's Family Owned Pizza Shops
Washington, D.C.