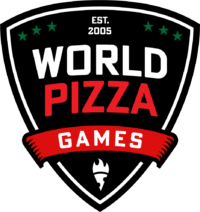 WORLD PIZZA GAMES®
2023 Information Coming Soon…
A 6-Event Test of Skills For the World's Pizza Makers
Beginning with the Individual Event Trials on Tuesday and ending with the Finals on Wednesday evening at the Block Party, the World Pizza Games competition brings energy and excitement to the Pizza Expo show floor. The best pizzaiaolo is crowned in each division of the five divisions – Freestyle Acrobatic Dough Tossing, Fastest Dough, Largest Dough Stretch, Fastest Pizza Box Folding, Pizza Triathlon & the brand new Tandem Team Competition!
Attendees at the show are eligible to participate in five competitive events.
Freestyle Acrobatic Dough Tossing
Fastest Dough
Largest Dough Stretch
Fastest Pizza Box Folding
Pizza Triathlon
Tandem Team Competition
The Freestyle Acrobatic Dough Tossing preliminaries take place on Tuesday, with the highly anticipated finals moving to center stage at the Pizza Expo Block Party on Wednesday evening. The finals draw a large crowd at the party, with attendees cheering for their favorites and eagerly anticipating whose routine will be preferred by the judges.
Each pizzaiolo who finishes high in this and other World Pizza Games events can create a marketing buzz for his or her pizzeria. First-place winners receive $1,000 cash prizes, with medals going to the three top finishers.
NOTE: You must register as an attendee before you can enter the Pizza Games competition. Registration for Games events may be completed online while you register.
2021 rules will be available soon. View the 2020 WPG Rules.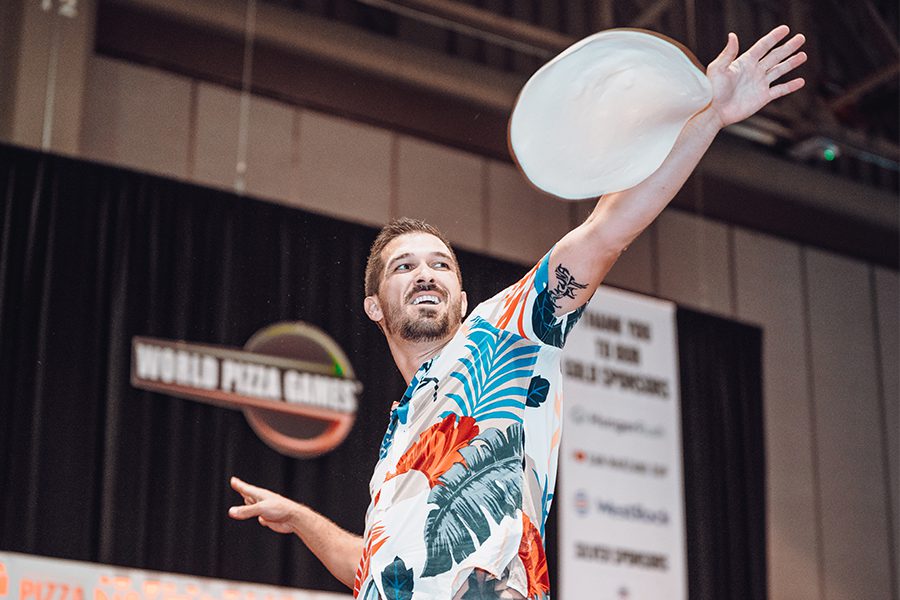 Tuesday, March 22 (Exhibit Hall)
10:15 am — Join Antonio Pace, President, Stefano Auricchio, General Manager, and the Associazione Verace Pizza Napoletana (AVPN) team for the official announcement of AVPN's Pizza Olympics and their market analysis of Neapolitan Pizza.
11:15 am — Fastest Dough Stretch Trials & Finals
12:30 pm — Fastest Box Folding Trials and Finals
1:30 pm — First Division Individual Acrobatic Trials
3:30 pm — First Division Acrobatic Finalists Announced
Wednesday, March 23 (Exhibit Hall)
12:15 pm — Pizza Triathlon Trials & Finals
1:15 pm — Largest Dough Stretch Trials and Finals
Wednesday, March 23 (Block Party)
5:25 pm — Individual Acrobatic Dough-Tossing Finals
6:20 pm — Masters Division Dough-Tossing Acrobatics
Thursday, March 24 (Exhibit Hall)
8:00 am — Tandem Team Competition
The objective of this event is to provide a showcase for competitors who excel at the core skills of hand-crafted pizza production in a professional setting. Each team will be composed of 2 pizza makers.
1:30 pm — Winners Announced
Tandem Team Competition Detailed Schedule
Note: Each team has 20 minutes.
Italian Classico Division
8:00 am Teams 1 & 2
8:30 am Teams 3 & 4
9:00 am Teams 5 & 6
9:30 am Teams 7 & 8
10:00 am Teams 9 & 10
American Division
10:30 am Teams 1 & 2
11:00 am Teams 3 & 4
11:30 am Teams 5 & 6
12:00 am Teams 7 & 8
12:30 am Teams 9 & 10
1:15 pm Winners Announced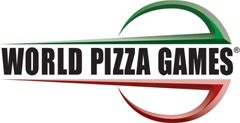 2021 Winners
Freestyle Acrobatic Dough Tossing (Masters)
Jamie Culliton – Nona's Slice House
Freestyle Acrobatics Dough Tossing (1st Division)
Tara Hattan – Andolini's Pizza
Fastest Dough Stretch
Joshua Owens – Mad Mushroom Pizza
Largest Dough Stretch
Nathan Wilson – Six Hundred Downtown
Fastest Box Folding
Harpeet Singh – Pagliacci Pizza
Pizza Triathlon
Tara Hattan – Andolini's Pizza