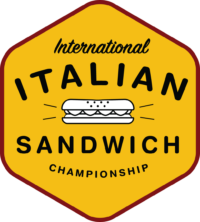 INTERNATIONAL ITALIAN SANDWICH CHAMPIONSHIP
Date: Thursday, March 30
Time: 8:00 AM – 1:00 PM
The International Italian Sandwich Competition is back for a 3rd year in 2023 and will take place on the show floor in the IIPC area. The competition will be limited to the first 30 entrants presenting a sandwich seen on the menu of a pizzeria, Italian restaurant, or bakery.
Sandwiches can be a hot or cold Italian-inspired sandwich consisting of any combination of Italian ingredients, sauces, toppings and/or décor/garnishes on any type of bread, roll, or bun.
NOTE: You must register as an attendee before you can enter the International Italian Sandwich competition. Registration for the competition may be completed online while you register.
What is Judging Based On?
Judging will be based on Italian cuisine's basic tenets:
Technique
Presentation
Flavor balance
Taste
Winner Prizes
Winner Prizes
1st Place will receive a trophy and $2,000.
2nd & 3rd Place will receive $500 and $250 respectively.
1st Place
Ismale Romaro
2nd Place
Ismale Romaro
3rd Place
Mossimo Mannino